Bloom Communication launches the "Perfect in the kitchen" campaign for Bosch Electrocasnice
8 months ago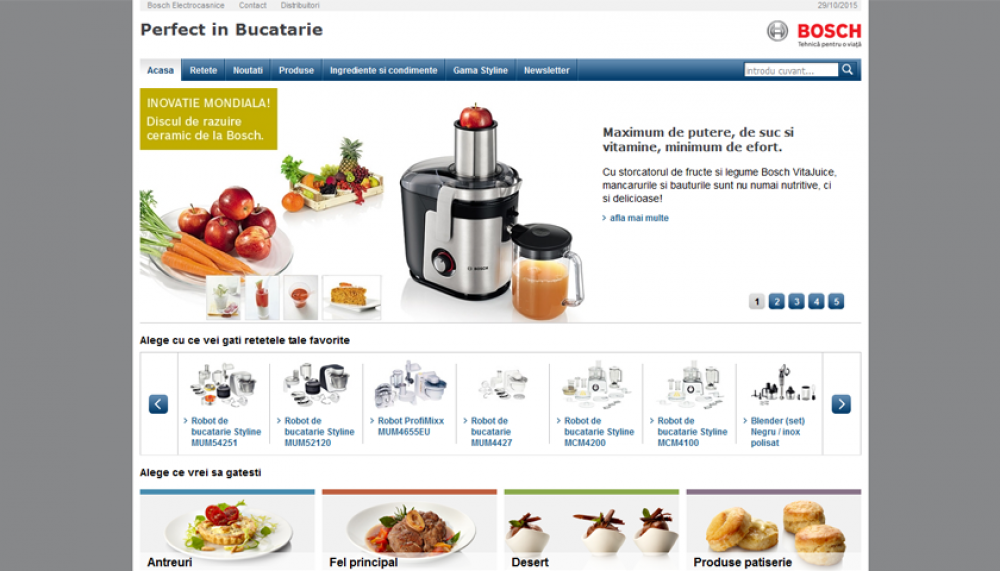 Bloom Communication, a traditional partner of Bosch Electrocasnice Romania since 2008, accepts the latest challenge of Bosch: to create the online campaign concept, banners and website, consistent with the global communication standards of the German group.
Perfect in the kitchen," the ingenious message of the online campaign, emphasizes the innovative design and features of Bosch products: it is easier to tell you what this kitchen machine cannot do, because it does a lot; it helps you prepare all the food you want.
The interactive website www.perfectinbucatarie.ro emphasizes how reliable, high-quality, innovative and practical are these two new Bosch products: MCM4 kitchen machine, STYLINE range, and Profi Kubixx MCM5529, the only kitchen machine in the world with cutting, chopping, squeezing, beating and cutting into cubes functions, were the winners of 2010 Reddot Design Awards.
The "Perfect in the kitchen" campaign posted on the specific websites addresses both women and men who enjoy cooking or purchasing useful home appliances.
BSH Electrocasnice SRL is the Romanian branch of BSH Bosch und Siemens Hausgeräte GmbH, a multinational German group, with a EUR 8.8 billion turnover in 2007.