4851 heart beats – a new world record
8 months ago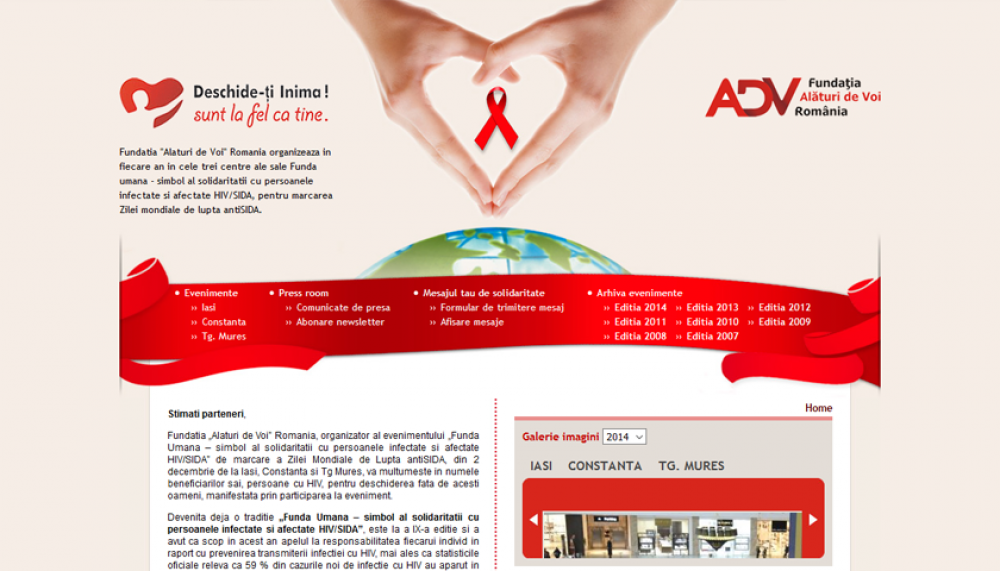 Bloom Communication was the main partner of Alaturi de voi Foundation and co-organiser of "The Largest Awareness Human Ribbon in the World," a symbol of solidarity with HIV/AIDS affected people, an event pending a Guinness World Records review.
The event took place on December 11th, 2009, at the Iasi Palace of Culture and was supported by 140 partners.
Bloom Communication provided its pro bono support by creating the entire communication package: visual identity, communication strategy, website, print & packaging and brand management.
At the core of the visual identity stands a powerful emotional symbol: the unconditional help gesture from the heart. The human shape inside the heart tells how open we should be to the others, the disabled, suffering and socially alienated ones. The stretched hand of this human shape is the symbol of mutual help.
The communication campaign was built in three segments:
Establishing a Charity Shop in partnership with Iulius Mall and its marketing;
Online campaign on www.fundaumana.ro (open for supporter registration and donations by buying pixels), on www.1decembrie.eu, banners, advertorials and newsletters;
The largest awareness human ribbon in the world, a symbol of solidarity with HIV/AIDS affected people and to honour the victims who passed away.
Bloom Communication was the main partner of the "Open Your Heart! We Are Alike!" project, rewarded with the "Sponsor of the Year 2009" title, within the Volunteers Gala, organised by Bethany Foundation and Iasi City Hall.
The "Alaturi de Voi" Romania Foundation is a non-governmental organization, established in March 2002 by Holt International Children's Service, funded by USAID. ADV took over the personnel and HIV programmes run by Holt in Romania since 1992. The establishment of "Alaturi de Voi" was the answer to the need for diversified HIV/AIDS services. ADV is based in Iasi, and has branch offices in Constanta and Tg. Mures.